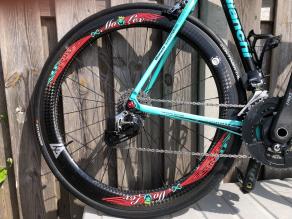 Lex : My first carbon wheelset. The model is WRU55C02 /12K glossy finish and I've customised the decals and Lightbicycle made them under the clearcoat. These wheels are fast and stiff. I have been enjoying them for over a month and I'm glad to have chosen these. Customising the decals was quite a proces but they sure are helpful overthere at LB!
Hypergrace : Fixed gear bicycle with Lightbicycle 55mm clincher U-shaped 12k glossy rims and new logo in white. Laced to Mack Hubs with Sapim Cx-ray spokes and internal nipples. Beautiful wheels!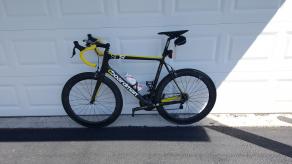 Erik : 55mm U-shape with 24/28 f/r lacing, Light-Bicycle decals. They look amazing and ride great! Thanks!
Privacy Policy
A friendly reminder to the photos providers:
Thank you for the consent on sharing the photos here at our website, Strictly to align with our Privacy Policy. We only show partially of your name and location. And you also at any time have the right to withdraw your consent by contacting us at support@lightbicycle.com.