Buy & Configure
All wheels are 100% customizable at Light Bicycle. If your preferred specs are not listed, feel free to contact us (sales@lightbicycle) with your special requirements described.
TECH
Built to handle a host of new wide format tires all the way up to a full-on 3.0" Plus tire, with our durable BlackTek finish, updated profile, and new manufacturing process, the AM935 is sure to stand the test of time.
Utilizing our updated asymmetric profile and new manufacturing process, you're getting a very modern rim that is not only strong and scratch resistant, but also quite versatile.
WARRANTY
For Non-Pro Series Rims: From the date of purchase, 3-year Standard Warranty.
For Pro Series Rims: From the date of purchase, 5-year Pro Warranty as standard and an upgraded optional lifetime Premium Warranty with minimum charge.
Crash Replacement: It is applicable with the same period as the warranty time range that you purchased for the rims with 10% /25% discount for Non-Pro series /Pro series.


WHAT IS IN THE BOX
Gallery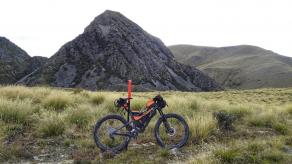 Brian : I thought I'd show you where & what the new wheels are being used for. I use them as my bikepacking/adventure wheel set. I've attached a couple of photos from a recent overnighter. They're fantastic. Thanks again for such wonderful service.
Get in touch
Feel free to leave a comment if you have any questions or suggestions on our products or other issues.

Please leave your name here.
E-mail is required for further contact.