Buy & Configure
All wheels are 100% customizable at Light Bicycle. If your preferred specs are not listed, feel free to contact us (sales@lightbicycle.com) with your special requirements described.
TECH
With an 18mm internal width and a depth of 35mm, the Alpha Moto is for the dedicated racer looking for the advantage of an aerodynamic rim with a wider contact patch on the track. Extra traction means better cornering and more control.
WARRANTY
For Non-Pro Series Rims: From the date of purchase, 3-year Standard Warranty.
For Pro Series Rims: From the date of purchase, 5-year Pro Warranty as standard and an upgraded optional lifetime Premium Warranty with minimum charge.
Crash Replacement: It is applicable with the same period as the warranty time range that you purchased for the rims with 10% /25% discount for Non-Pro series /Pro series.

Gallery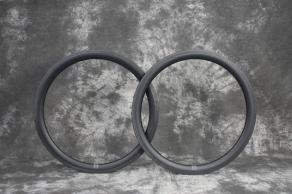 LB : RB016 Alpha Moto Rim Brake matte 3K 24H external hole Presta With Holes Cost: $155 USD Weight: 315 grams
Get in touch
Feel free to leave a comment if you have any questions or suggestions on our products or other issues.

Please leave your name here.
E-mail is required for further contact.