There are four different types of holes drilled on carbon rims. The quality of the holes is important because it can affect force transmission, wheel tension, and ease of building. Smooth hole drilling is a striking feature of our rims since the detailing process is done carefully and we even use the aviation-class drill bits on Pro rims. Take a minute to learn about the hole function and types, and consider whether you need customized diameters on your next Light Bicycle purchase.
Spoke Access Holes: Easy Spoke Lacing
Access holes are drilled into the rim bed/center channel to feed the nipple through the rim to connect with the spokes. Wheel building can also be done from the wheel's outside diameter if set up with the correct hole type. We drill centered, offset, or staggered hole patterns depending on the rim type.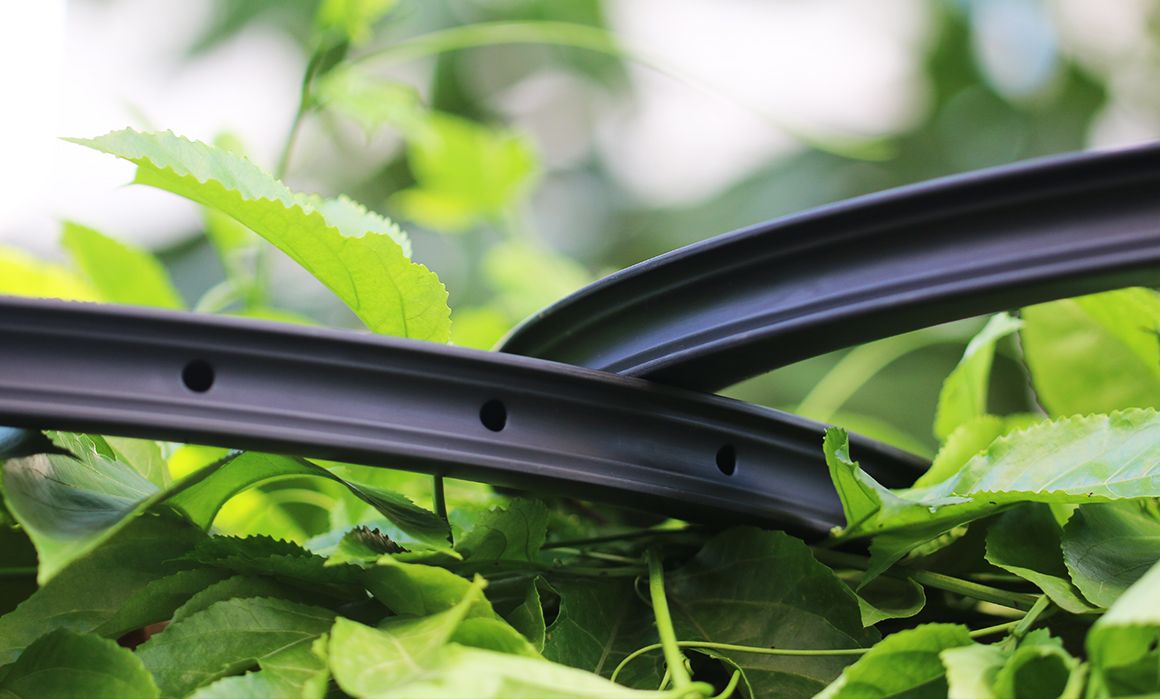 Some customers prefer to go without these hole patterns. With this style of tubeless rim, tubeless tape isn't necessary, but it makes wheel building more challenging. Check out our blog on tubeless-ready and tubeless rims.
Nipple Holes: Internal or External?
Are internal (hidden) nipples better? The internal nipple is built into smaller holes of a 2.5mm diameter, thus fewer carbon fibers are drilled and interrupted, and the holes are less likely to crack. The area around the external nipple hole (Ø4.5mm) is reinforced, so the increased rim strength isn't obvious. Internal nipples are also thought to be more aerodynamic than external nipples. The maintenance of internal nipples, however, is challenging. When truing the wheel, the tire and rim tape (if applicable) must be removed to adjust the nipples.
There are two tips we suggest for internal nipples: one, use them for deep rims - over 25mm in depth; two, don't pair internal nipples with tubeless rims - this could drive a wheelbuilder crazy.
What's more, the nipple hole is drilled on an angle according to the hub flange. This allows the nipple to pull straight in line with the spoke for reduced stress. The result? Fewer broken spokes and nipples.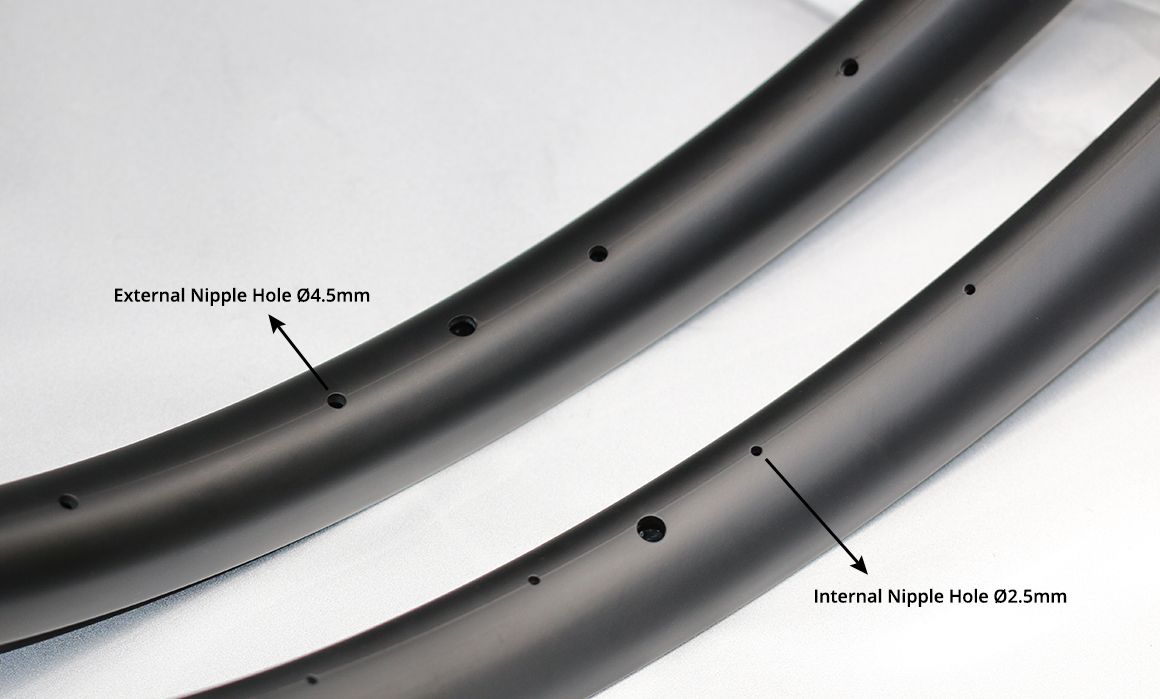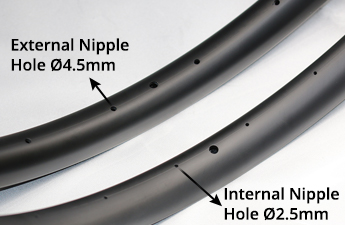 Valve Holes: Presta vs Schrader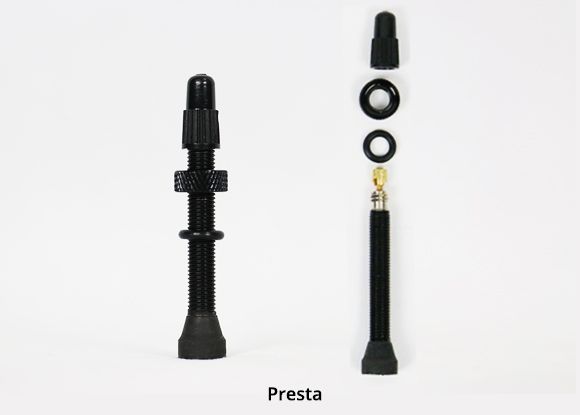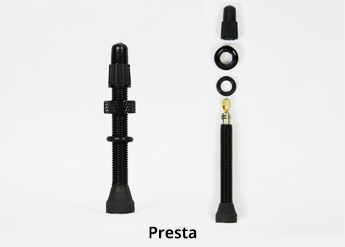 Presta valves have a 6.5mm valve diameter and are the most popular for mountain bike, road and fat rims. This is our default valve hole size on all rims. If you want to go tubeless, we suggest the Presta valve instead of Schrader.
We can make 8.5mm Schrader valve holes which is the same style of valve used for vehicle tires. These are more popular with BMX riders. If you want to run Schrader tubes or valves, please make a note at checkout and we will customize the valve hole diameter for you.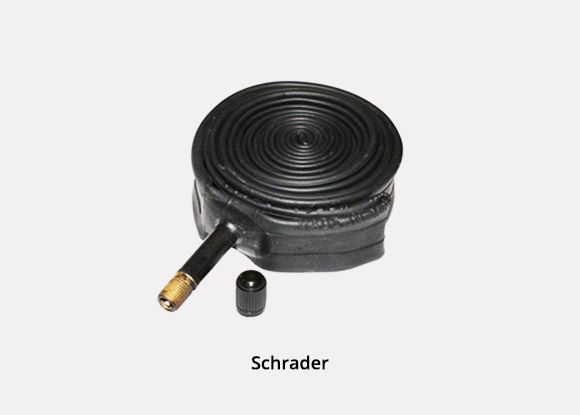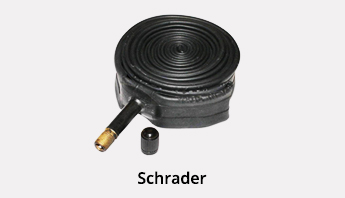 Drain Holes: Evacuate Water
Some rims on the market come with a drain hole which is often located near the valve. These holes are designed to evacuate water using the centrifugal force of the wheels. Though not necessary, the 2.5mm holes can help to reduce the amount of water that can potentially accumulate inside the rim while riding. We do not add these holes as a standard, but if you make a note when ordering, we can reinforce the area and add two of these holes per rim.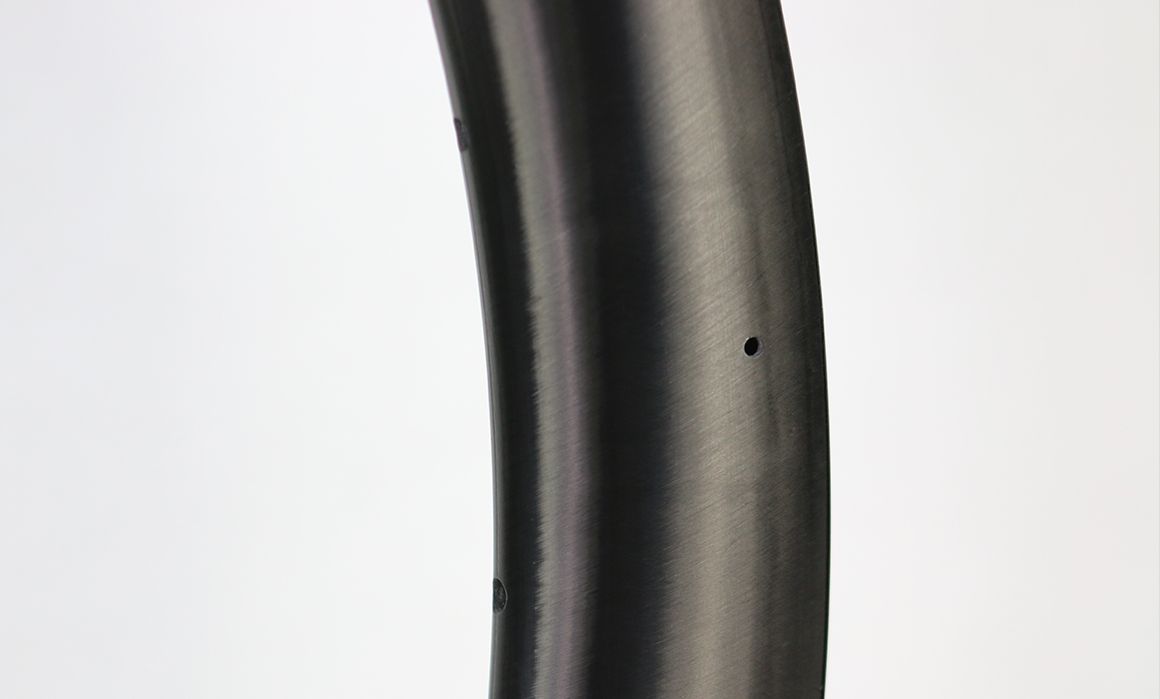 Please leave a comment if you have any questions on our hole drilling customization service.
LEAVE COMMENTS
We are here for you if you need any assistance.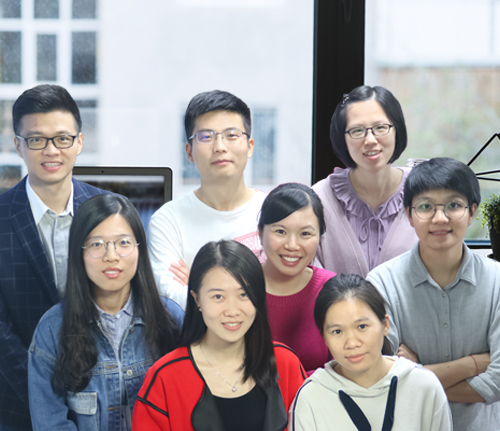 Please leave your name here.
E-mail is required for further contact.