Onyx Racing Products is a US manufacture of high end hubs. They have been known for their vast array of color options, instant engagement, and unique silent sprag clutch design. The one downfall however is that they weigh more than other hubs. For most customers, the efficiency offsets the weight gain, but for others it was a hurdle. After 2+ years of development, the new generation of lightweight sprag hubs are here, same features as before but without the added weight. Enter the Vesper!
How much weight was really saved?
Let's take a look at the actual hub weights of the most popular options.
| Specs | Generation1 | Vesper Rdition |
| --- | --- | --- |
| 15/110mm Boost 32h 6-Bolt | 226g | 177g |
| 15/110mm Boost 32h Centerlock | 225g | 155g |
| 12/148mm Boost 32h 6-Bolt(SRAM XD) | 474g | 409g |
| 12/148mm Boost 32h Centerlock | 449g | 372g |
The Vesper hubs were weighed with steel bearings. Upgrading to ceramic bearings (more on that later), saves 9g per hubset. MicroSpline freehubs add 5g, Shimano HG freehubs add 9g. All rear hubs were weighed with Sram XD Alloy Freehubs.
The new boost CL Vesper hubset with an XD freehub and ceramic bearings weighs in at 518g, a whopping 156g lighter (1/3 of a pound) compared to the last generation. That's about the same weight as Hope Pro 4's, Lighter than most Chris Kings, and within 100g of really lightweight hubs like Industry Nine Hydra and DT240's.
How did they do it?
1. The majority of the weight savings has come from reducing the overall width of the sprag grouping. The sprags, drive axle and sleeve are all made of steel. So by reducing the width of the sprags, they can reduce the other steel components. Alternate materials were explored for these parts but they can't adequately handle the loads long term.
2. The revamped freehub design uses a new interface to engage with the steel drive axle. Their original freehub system was 100% steel because the sprags ultimately needed to ride on the steel axle as well. A lighter alloy freehub was released, but it was bonded to a steel sleeve and in some cases there was an issue of the materials expanding and developing a hairline crack due to the 2 dissimilar materials being sleeved together. A retrofit on their last generation of hubs will become available to switch to this new freehub system.
3. The hubshells have been refined to machine out as much material as possible. They are made in 6-bolt (ISO) and the increasingly popular and lighter weight Centerlock variation.
What else is new?
Bearing Changes - The Vesper hubs come with steel bearings as standard. There is an option to upgrade to faster rolling Verinent bearings which use ceramic balls. The other tweak is that heavier duty (double lip) seals are used on the outboard side of the bearings in order to increase protection against the elements. The side of the bearings that isn't as exposed to the elements uses a low drag RS seal (single lip). It costs $100 for the rear and $60 for the front to upgrade to the ceramics. The rear is more expensive because you're getting a ceramic upgrade to the freehub as well.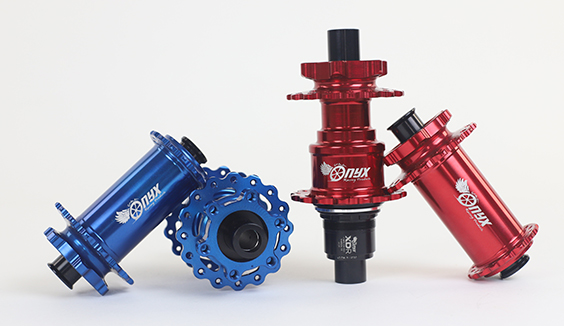 Axle and End Caps - A simpler end cap/axle design is now used so that there are more shared parts between the various hub standards. You can swap between different freehubs and even change the axle width standard without having to change out the actual axle. The end caps pop on without needing to thread them on.
Freehubs - The Sram XD option is technically an "XD-R" meaning it is wider than a standard "XD" and is compatible with XD Road cassettes which is something new to the market. Onyx has decided to future-proof this freehub. 99% of riders will be running the provided spacer behind your cassette as mountain bike cassettes are slightly narrower than their road counterparts. Shimano HG, MicroSpline and Campy freehubs are also available.
Retail Pricing & availability
We offer the Vesper hubs as complete wheelsets only, however, it is helpful to have a breakdown of the individual parts cost:
| Hub choice | Front Hub | Rear Hub |
| --- | --- | --- |
| Base Price | USD 215 | USD 460 |
| Ceramic bearing upgrade | USD 60+ | USD 100+ |
| Bolt on version | USD 20+ | USD 20+ |
| Micro Spline upgrade | NA | USD 75+ |
For the release in May 2019, the Vesper hubs will be available in 148x12, 110x15, ISO (6-bolt), 32h, and in 6 colors. Available colors are Anodized black, Anodized blue,Anodized Clear silver,Black matte, Powdercoat black Chrome.Toque Caps are also available for the front hubs. The end caps and tension caps are available in any black only at the time of the release. More anodized colours will be available for special order in the future.
The full line will start to roll out in all color options and centerlock brake style will also be available later on.
Here is a list of what's being manufactured. If you don't see the option you need online, please e-mail us!
Front Axle Standards:
100 QR
100x10mm Bolt-on
100x12mm Thru
100x15mm Thru
100x15mm Torque Cap
110x15mm Thru Boost
110x20mm Thru
110x15mm Torque Cap
110x15mm Rock Shox RS-1
Rear Axle Standards:
130 QR
135 QR
130 8mm Bolt-on
135x10mm
135x10mm Bolt-on
135x12mm
142x12mm
142 QR
148x12mm Boost
150x12mm
157x12mm Super Boost
Pre-order is available now!
Are fatbike hubs going to get the Vesper upgrades?
No, not at this time.
---
Can I get a steel version of the Shimano HG Freehub?
Yes, we can do this by special order and they are the same cost as the alloy ones.
---
Can I get a Steel XD freehub for the Vesper?
No, not at this time.
---
Why does it say XD-R instead of XD on the freehub?
The new freehubs are compatible with road XD-style cassettes. You will need to run a spacer behind your mountain bike cassette on the XD-R freehub. We will provide this with your wheelset purchase.
---
Can the Vesper hubs be engraved?
Yes they can. We can offer this service when the initial rush is over. We anticipate this will be available starting in July 2019. E-mail us to discuss.
COMMENTS
---

---
REPLY
Please leave your name here.
E-mail is required for further contact.
---

---
REPLY
Please leave your name here.
E-mail is required for further contact.
---

---
REPLY
Please leave your name here.
E-mail is required for further contact.
---

---
REPLY
Please leave your name here.
E-mail is required for further contact.
---

---
REPLY
Please leave your name here.
E-mail is required for further contact.
Get in touch
Feel free to leave a comment if you have any questions or suggestions on our products or other issues.

Please leave your name here.
E-mail is required for further contact.