Buy & Configure
Our Global Warehouse ships products worldwide, while our North American Warehouse provides faster shipping service for customers living in North America.
1

RIM

2

ACCESSORIES

3

OVERVIEW
RIM
Brake System This is a required option.
Version This is a required option.
| | | |
| --- | --- | --- |
| Version | Standard | Flyweight |
| Weight | Standard | 42g - 70g lighter |
| Material | Toray T700 | Toray T800 and T700 |
| Layup | Standard Layup | New layup for weight saving |
| Max Weight Loaded | 135kg | 90kg |
Bead type This is a required option.
Hole Count This is a required option.
Please note that our valves are drilled for presta and spoke holes are made for external nipples by default. If you have a custom drilling requirements please e-mail us and we'll send you a purchasing link.
Finish This is a required option.
Our Recon Pro and Falcon Pro rims feature BlackTek and come out of molds as a finished product, with a scratch resistant and near flawless finish, eliminating the need for sanding or painting.
Weave This is a required option.
Rim Warranty This is a required option.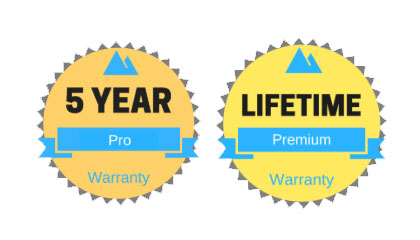 For Recon Pro Series ( MTB rim), Falcon Pro (road rim) and Drift Pro (fatbike rim), 5-year warranty is set as standard, and optional Lifetime Premium Warranty are kindly offered to purchase with minimum charge respectively.
Center Channel Hole This is a required option.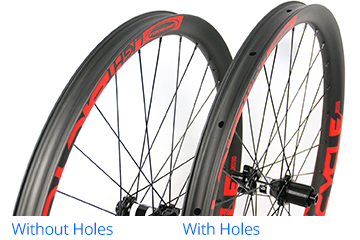 WITH HOLES: This is the traditional method. Holes are drilled in the center channel to allow the nipples to easily be fed through the rim. Tubeless tape is required to seal the rim.


WITHOUT HOLES: No holes are drilled in the center channel. Feeding the nipples through the rim is more challenging, but it allows for a tubeless setup without the need for tape. This kind of system is known as "road tubeless" and was made popular by Mavic. Some companies still refer to it as "UST style", however, UST is actually a specific interface between the tire and rim which was developed by a partnership between Mavic, Michelin, and Hutchinson.
Decal This is a required option.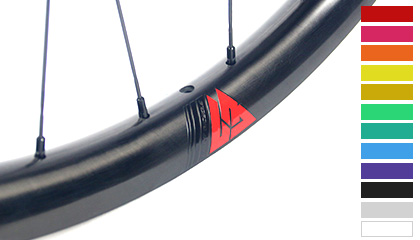 The "Black" graphic is a glossy black non-removeable waterslide for a subtle look. Avery vinyl logo-kits are available in 11 colours. The vinyl is replaceable and easy to install.
Valve Stem This is a required option.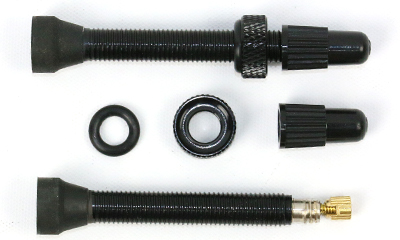 We include enough valves to cover your individual rim purchase. We use a lightweight black alloy anodized valves with an oversized concave collar for easy gripping. A rubber o-ring goes in between the rim and the collar to help seal the rim and match the contour of the rim profile. The valve core is removable so you can add sealant without removing your tire.
Link to tubeless valve instructions
Add Valve Stem USD +7 each
Tubeless Tape This is a required option.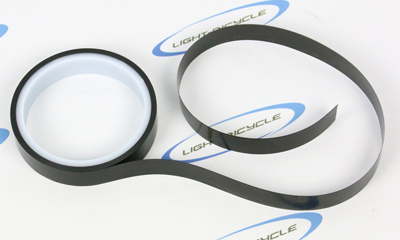 One 10 yard roll of tape will be included. It is typically covers 2 rims with two laps each or 4 rims with one lap each.The high tensile tubeless tape features a natural rubber adhesive that does not leave a residue on the rims. On mountain bike rims, one layer of 18mm width tape is strong enough to seal the access holes which makes for the lightest tubeless setup.
Instructions of tubeless rim tape
Add Tubeless Tape USD +6 each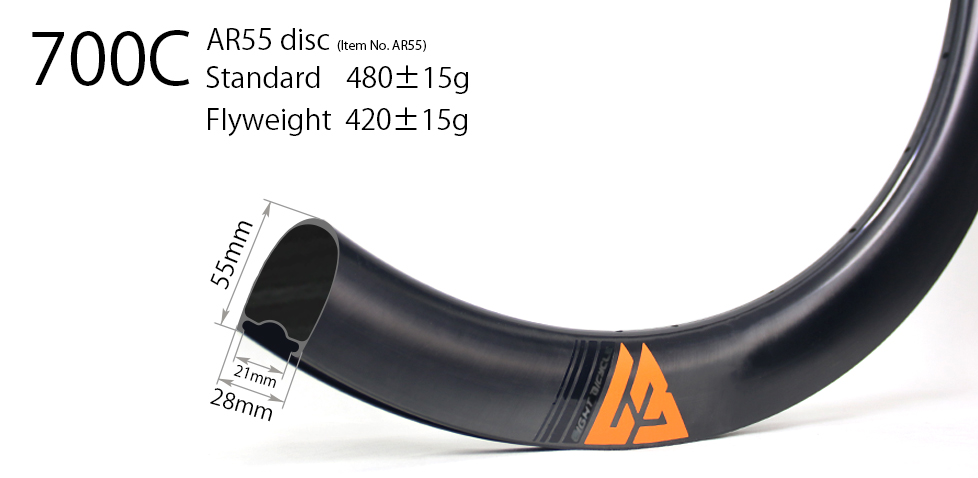 Recon Pro orders start shipping in October.
Weight: 480.00g+/-15
Final total: USD 259+
Added to cart! View cart or continue shopping.
TECH
Featuring a wide 28mm external width, these tubeless ready Falcon Pro rims offer a wide and stable platform for gravel tires.
With the 21mm internal width and 55mm depth, the AR55's are well suited as an aerodynamic gravel race rim or a deep dish cyclocross wheelset. The width is versatile enough for 25-28c road tires and lighten up your road bike to give you an edge at the next Gran Fondo!
WARRANTY
For Non-Pro Series Rims: From the date of purchase, 3-year Standard Warranty.
For Pro Series Rims: From the date of purchase, 5-year Pro Warranty as standard and an upgraded optional lifetime Premium Warranty with minimum charge.
Crash Replacement: It is applicable with the same period as the warranty time range that you purchased for the rims with 10% /25% discount for Non-Pro series /Pro series.


WHAT IS IN THE BOX
COMMENTS
---

---
REPLY
Please leave your name here.
E-mail is required for further contact.
Get in touch
Feel free to leave a comment if you have any questions or suggestions on our products or other issues.

Please leave your name here.
E-mail is required for further contact.