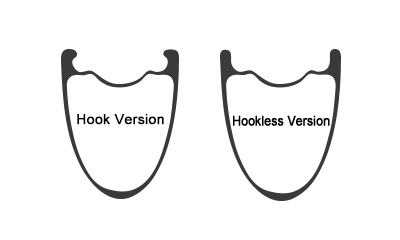 Rim width (hook):
28mm external/21mm internal
Rim width (hookless):
28mm external/22.5mm internal
Both hook and hookless rims are built using the same dimensions and materials. The max tire pressure for hook version is 160psi and it is 40psi for hookless version. For hookless design, it makes the rim with better impact strength.
The hookless version is designed with low pressure impact resistance in mind. If you are planning to run a tire pressure above 40psi, the hooked version would be a better choice.
The new 28mm width road wide bicycle rim has a deep profile for improved aerodynamic, offering greater stability with wider tyres. Wider rims and tyres will give you better speed, comfort and more secure in corners. They are ideal for disc brake equipped road bikes, cyclocross bike wheels and gravel cycling. It is available for both rim brake version and road disc version, hook and hookless design.
Our air bladders are made from a special material which produces smoother walls, result in a lighter rim, and are completely removed without harsh chemicals. They are removed through the valve hole with a unique process so that the rim does not have to be patched like traditional manufacturers use. This significantly improves the strength of the rims. Read More about our process
here
Each rim carries its own layup schedule documents which are followed meticulously by the layup workers. Our Engineering team creates a unique fiber orientation which amplifies the desired riding characteristics for a given rim.
beadlock design making this light weight road rims better tubeless setup and better sealing.
Improved aerodynamic design for a better crosswind protection.
Idea for wider tyres, disc brake equipped road bikes, road races, gravel races and cyclocross.
Angled spoke holes allows the nipple to pull straight in line with the spoke for reduced stress. This results in fewer broken spokes and nipples.
Constructed with premium Toray T700 carbon fiber. The best strength to weight ratio with no expense spared.