Buy & Configure
Global warehouse ship to most countries while the North America warehouse only ship to the United States and Canada
1

RIM

2

ACCESSORIES

3

OVERVIEW
RIM
Brake System This is a required option.
Version This is a required option.
| | | |
| --- | --- | --- |
| Version | Standard | Flyweight |
| Weight | Standard | 52g - 80g lighter |
| Material | Toray T700 | Toray T800 and T700 |
| Layup | Standard Layup | New layup for weight saving |
| Max Weight Loaded | 135kg | 90kg |
Bead type This is a required option.
Hole Count This is a required option.
Please note that our valves are drilled for presta and spoke holes are made for external nipples by default. If you have a custom drilling requirements please e-mail us and we'll send you a purchasing link.
Finish This is a required option.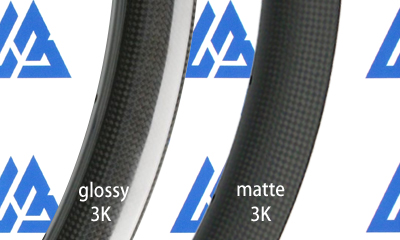 Matte is slightly lighter and a more subtle finish (most popular). Glossy has a shine to it.
Weave This is a required option.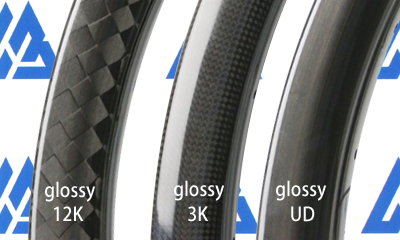 The layup schedule is predetermined for each model, but you can choose the outer layer.
3k/12k/UD are the 3 choices for cosmetic appearance.The rim strength & weight is virtually identical.
UD Matte is the most popular and has a subtle look.
3k weave has a more traditional carbon fiber look.
More info about Weave >>
Center Channel Hole This is a required option.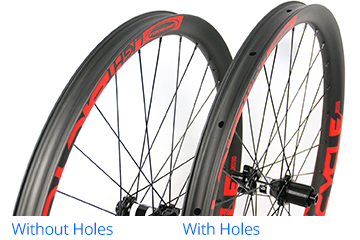 WITH HOLES: This is the traditional method. Holes are drilled in the center channel to allow the nipples to easily be fed through the rim. Tubeless tape is required to seal the rim.


WITHOUT HOLES: No holes are drilled in the center channel. Feeding the nipples through the rim is more challenging, but it allows for a tubeless setup without the need for tape. This kind of system is known as "road tubeless" and was made popular by Mavic. Some companies still refer to it as "UST style", however, UST is actually a specific interface between the tire and rim which was developed by a partnership between Mavic, Michelin, and Hutchinson.
Decal This is a required option.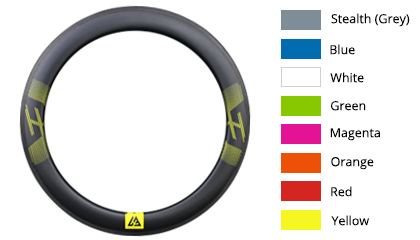 Road rims use super light waterslide decals (glossy black). The decal is very thin and applied under a clearcoat so they are non-removeable.
Pictures about light-bicycle decal >>
If you want custom graphic, Please email us, we will design for you. There will be extra cost for custom graphic on rims.
Valve Stem This is a required option.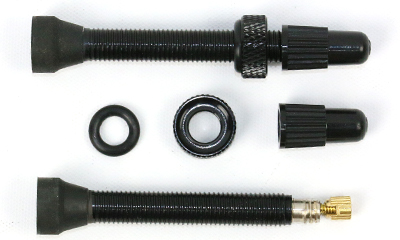 We include enough valves to cover your individual rim purchase. We use a lightweight black alloy anodized valves with an oversized concave collar for easy gripping. A rubber o-ring goes in between the rim and the collar to help seal the rim and match the contour of the rim profile. The valve core is removable so you can add sealant without removing your tire.
Link to tubeless valve instructions
Add Valve Stem USD +7 each
Tubeless Tape This is a required option.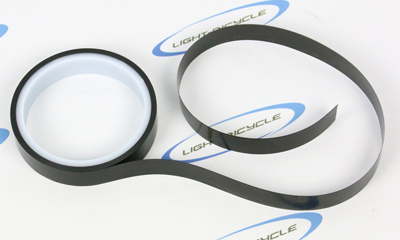 One 10 yard roll of tape will be included. It is typically covers 2 rims with two laps each or 4 rims with one lap each.The high tensile tubeless tape features a natural rubber adhesive that does not leave a residue on the rims. On mountain bike rims, one layer of 18mm width tape is strong enough to seal the access holes which makes for the lightest tubeless setup.
Instructions of tubeless rim tape
Add Tubeless Tape USD +6 each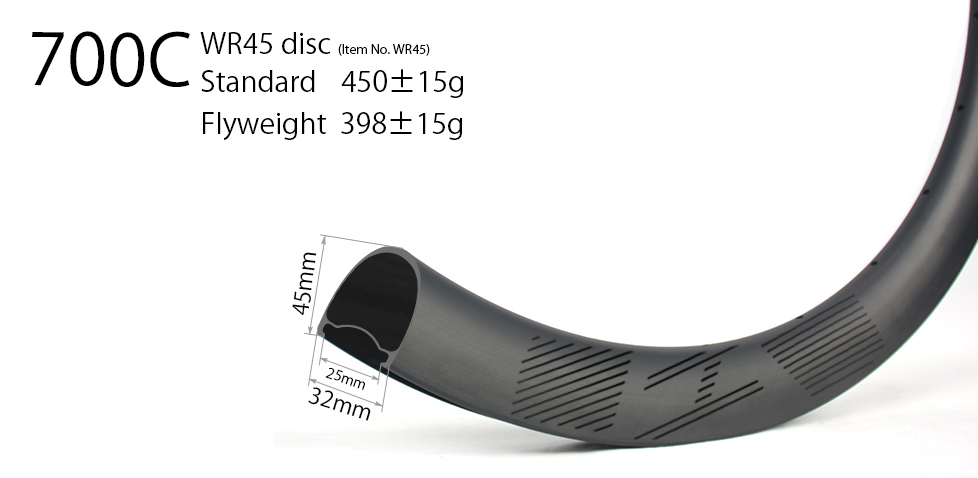 Recon Pro orders start shipping in October.
Weight: 450.00g+/-15
Final total: USD 179+
Added to cart! View cart or continue shopping.
As one of our widest road rims designs, the WR45 is the answer for the gravel rider trying to squeeze out every aerodynamic advantage from their setup.
Designed with racing in mind, the WR45 features a deep U-shape profile that cuts through crosswinds and decreases lateral resistance. With a 45mm deep and stiff profile, the WR45 is designed for experienced bike handlers looking for an aero edge or larger riders.
AeroTek: Our latest aerodynamic profile decreases lateral wind resistance and is both more stable and faster in a crosswind. A wider profile allows for larger and more efficient tires to be used without an aerodynamic penalty. Traditionally a tire can form a lightbulb shape when mounted on a narrow rim, but the airflow is much smoother with our wider rims.
DuoTek: Our clincher rims are manufactured in two pieces and then joined together. When designing the rims, our engineers, in every detail, demanded fewer joints. Fewer joints mean higher strength and stability.
TuffTek: A high-grade customized epoxy resin is used in our prepreg, creating a stable base for all of our road rims. Epoxy is less brittle than polyester resins and offers excellent flexural strength. Our consistent resin system, coupled with a precise layup schedule, allows for an extremely reliable and durable product.
Tubeless : All of our rims are tubeless compatible with bead seat retention. In most cases a floor pump is all that is needed to seal our rims. The bead shape is tailored to each rim width to achieve the best fit. Our hookless and clincher profiles have a smooth radius to reduce the chance of a pinch flat.
T700: Constructed with premium Toray T700 carbon fiber. The best strength to weight ratio with no expense spared.
For Non-Pro Series Rims: From the date of purchase, 3-year Standard Warranty.
For Pro Series Rims: From the date of purchase, 5-year Pro Warranty as standard and an upgraded optional lifetime Premium Warranty with minimum charge.
Crash Replacement: It is applicable with the same period as the warranty time range that you purchased for the rims with 10% /25% discount for Non-Pro series /Pro series.
COMMENTS
---

---
REPLY
Please leave your name here.
E-mail is required for further contact.
LEAVE COMMENTS
We are here for you if you need any assistance.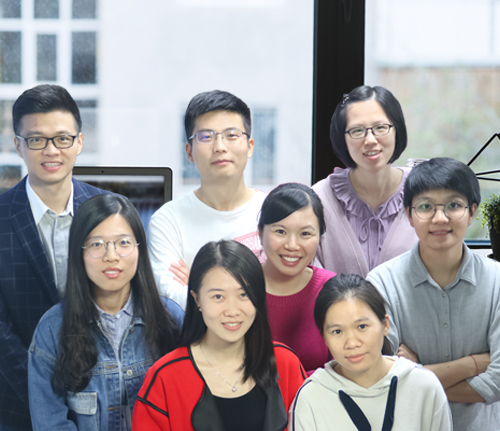 Please leave your name here.
E-mail is required for further contact.